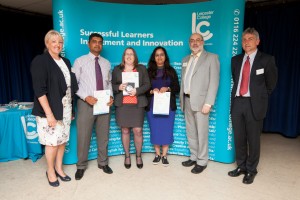 A few days ago I had the honour and privilege of sponsoring and presenting the award for the Advanced Apprentice of the Year at the Leicester College BUCO Awards. The winner was Esta Rooney.
Esta works for Her Majesty Courts and Tribunal Service (HMCTS) in Leicester.  She is profoundly deaf and has at times struggled to keep up with the rest of the group.
ICT Functional Skills proved to be a real challenge for Esta – rather than giving up –  she completed past papers each week and the team marked them and helped her to discover where her gaps in knowledge were.  When she finally sat the exam she passed not only with flying colours, but she gained 98% – which was the highest mark of all 35 apprentices on programme.

Esta has persevered with her apprenticeship and through her own determination has exceeded all expectations.
Well done Esta!