Social Small Biz Case Study: Network Midlands Events
Trevor Wood was recently interviewed by Social Small Biz about how we use social media.
Here's the interview (originally posted here)
In no more than 50 words explain what your business is?
Network Midlands organises business networking events around the East Midlands – Leicestershire, Northamptonshire, Warwickshire, Derbyshire and Nottinghamshire. We host four types of meetings, networking lunch with expo, table shuffles, speed networking and wish list meals. We are unique in the East Midlands in that we are entirely non-membership.
How do you use social media as a business?
We have a Twitter account, and a group on both LinkedIn and Facebook (since this was written we have replaced our Facebook group with a Facebook page). We advertise our meetings through all three of these along with our opt-in email list.
We also use our Twitter account to retweet information about other networking events we know about and special offers that followers tweet about. Using the Facebook group, each month we ask all the group members to tell everyone what they're doing, what sort of clients they are looking for, what suppliers they would like to talk to and anyone they would like to collaborate with. We're about to do the same with the LinkedIn group.
What are your business/marketing objectives for social media?
The primary reason for using social media is to raise the profile of Network Midlands and advertise our meetings.
When we get someone new coming to one of our meetings, they are always asked how they found out about the meeting. This gives us an idea of the effectiveness of the use of social media. Although the percentage of people who do find us this way is small, it is large enough to make the continuing use of social media worthwhile.
How does social media fit in with the other marketing your company does?
When we ran the first Network Midlands event, we invited everyone we'd met networking. Still most people who come, come because they have met one of us at a networking event somewhere else, so networking is the most important part of our marketing strategy. The use of social media fits nicely along side of this. We're planning to increase the use of social networking by trying to get the group members on LinkedIn and Facebook to interact more online.
What would be your top 3 tips for businesses looking to get involved in social media?
Reserve your account name, use something simple that people can remember – use your real name or company name if you can, nicknames can be so unprofessional.
Dress nicely – get a good photo for your profile. If it's a company account, then it's OK to use your company logo, but otherwise please show a photo of yourself, not your cat or dog or teddy bear.
Don't get involved in rants, fights, baiting, etc. – remember whatever you write will be on the Internet forever
Summary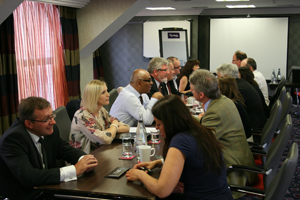 Article Name
Social Small Biz Case Study: Network Midlands Events
Description
Trevor Wood of Network Midlands explains how they use social media and what their objectives are
Author
Publisher Name
Publisher Logo